Five years ago, Ander Herrera produced one of the best man-marking performances in Premier League history on Chelsea's Eden Hazard, as Jose Mourinho's Manchester United toppled the champions elect 2-0. It's April 16, 2017 at Manchester United. Jose Mourinho wants to win and so does Ander Herrera. But there's one problem: Chelsea.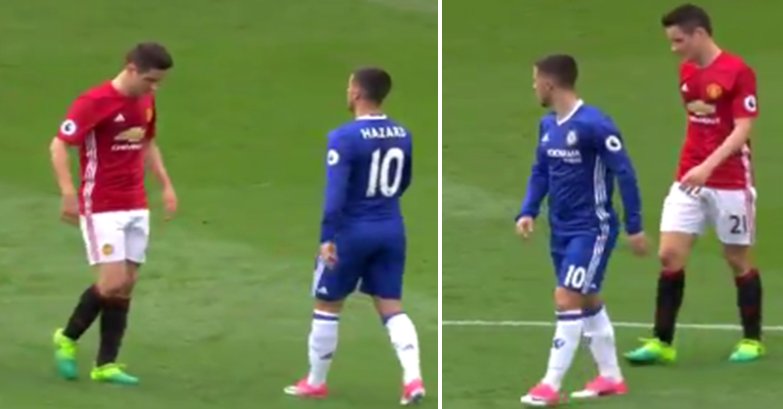 Antonio Conte was leading the Blues to a barnstorming Premier League title triumph in which they'd tally 30 victories, then an English record. Their talisman, Eden Hazard, enjoyed a sensational season, thriving with 16 goals and five assists in Conte's 3-4-3 formation. By the spring, Chelsea had already beaten the Red Devils twice – both at Stamford Bridge – where Mourinho had reigned for two separate spells before Conte conquered the division.
After a 4-0 drubbing in the league and narrow FA Cup quarter-final defeat, Mourinho faced being beaten by his former club for the third time in the same season. He wouldn't be humiliated again.
At United's Carrington training complex, 'the Special One' – regarded as one of, if not the, greatest tactician of his generation – hatched a plan with the help of Herrera, equally eager to stop the champions elect in their tracks. Scheming to prevent Conte and co from another win, the midfielder told his manager exactly what he was prepared to do when the teams met at Old Trafford.
With boss and employee in agreement, Mourinho unleashed Herrera on Easter Sunday, who gave the defining 90 minutes of his Red Devils career in a 2-0 win. The Spaniard made good on his promise, with Hazard unable to brake free from his shackles and physically prevented from being involved in the play.
But even with all of that defensive onus on his shoulders, Herrera's rare moments of attacking intent made United's two goals. Briefly escaping from his duties inside his own half, the ex-Athletic Bilbao dynamo nabbed the ball off future teammate Nemanja Matic – albeit with his arm – and played teenager Marcus Rashford in on goal, who cooly slotted home just seven minutes in.